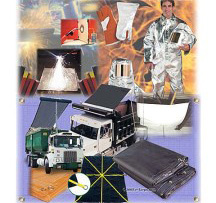 We started as an online e-Commerce Distributor for some of the largest tarpaulin and industrial products manufacturers in the United States. We are your one-stop source for over 10,000 products. This site is intended to have as little or no human interaction in this process. It gives us the ability to offer products at the lowest possible price due to low overhead and the Manufacturer buying raw materials in large volume.
TIP:
Why is it better to use a vinyl welder vs. sewing?
Answer: A sewing machine punches holes in the fabrics as it sews the panels together. Welding the fabrics if vinyl coated, melts the panels together and creates a 100% sealed seam where it can not leak.

Serving our community, Since 2002. Visit our full line of products: http://www.debrovys.com/products/.
Have questions? Contact Us.