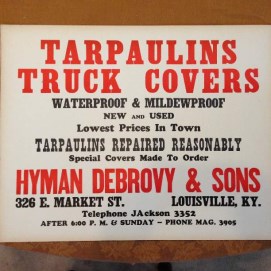 Advertising Poster from 1955
DeBrovy's was founded in 1885 as Hyman DeBrovy & Sons. Hyman born in 1856 and his wife Melvina Blausbaum born in 1866 had 12 children, 6 boys and 6 girls. At the age of 29 Hyman started this business. At one time four of the boy's, Gus, Julius, Sam and Sol worked at 326-328 East Market Street in Louisville Kentucky. Sol, was the last surviving boy in December 1992.
Serving our community, Since 1885. Visit our website for a full line of products: http://www.debrovys.com/.
Have questions, Contact Us.