Posted by Bruce Fetter on Aug 27th 2023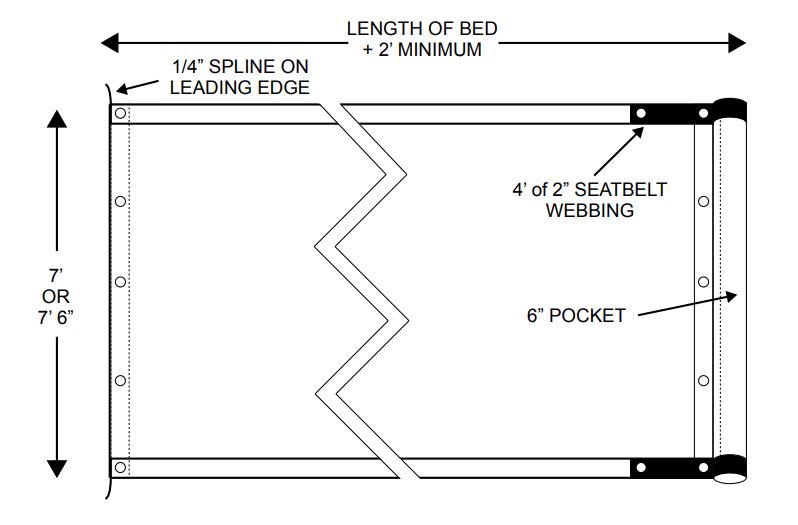 How much does a Dump Truck Tarp Cost? Choose from four different fabrics. Three fabrics are mesh and one is a solid vinyl. Each tarp has a reinforced 6" pocket on one end, 5 grommets in webbing on the other end. The reinforcement is 2" Nylon Seatbelt Webbing surrounding the pocket. All tarps range from $ 52.17 to $ 245.55. See diagram below.
Multi-Color Tarps: $ 52.17 - $ 157.20
Black PVC Mesh Tarps: $ 67.31 - $ 179.62
Heavy Duty Mega Mesh Tarps: $ 74.79 - $ 162.77
Black Asphalt Lumite (Asphalt): $ 85.43 - $ 151.43
RFL Canvas Tarps (Asphalt): $ 127.84 - $ 255.74
Black 18 oz. Vinyl Tarps: $ 86.81 - $ 191.85
Black 18 oz. Vinyl Tarps w/Flaps: $ 141.20 - $ 245.55
MESH TARPS:
Multi-Color Mesh Tarps are the cheapest, but not the cheapest in quality. This fabric is used in the outdoor furniture market, the overruns of this fabric is used to make tarps. The industry standard is 11x11 with 800-1000 denier yarn. DeBrovys uses 14x14 all 1000 denier yarn. DeBrovys reinforces all our tarps with #6000 2" automotive grade Seatbelt Webbing, not the 500 lb. 2" webbing on our competitors' tarps.
Black PVC Mesh Tarps is our weakest mesh, its Black and expensive because its a solid color. Black mesh is a little less expensive than Mega Mesh but is less than half as strong.
Heavy Duty Mega Mesh Tarps are the most value a truck tarp can offer. Mega Mesh has 20 threads per inch (20x20) all 1000 denier yarns. This mesh is designed to be used on Roll-off tarps due to the brutal environment in which they operate. We have been making Dump Truck tarps out of this material and have had a tremendous response from our customers. It is approximately the same price as Black Mesh tarps and is only 30% more expensive then Multi-Color tarps. Makes great side-to-side tarps for Transfer trailers. We make Hammocks for Zoos out of this material because the gorillas cannot tear it! No joke!
SOLID TARPS:
Black Asphalt Lumite Tarps are primarily used in the Asphalt Industry. They are made out of Polypropylene. Asphalt does not stick to this fabric.
RFL Canvas Tarps is used to cover asphalt. The fabric comes from the conveyor belt Industry, and is the newest fabric to the asphalt covering market. The most frequent color is rust. This material can vary in color and weight.
Black 18 oz. Vinyl Tarps
Black 18 oz. Vinyl Tarps w/Flaps
We determine the price of the product listed on this website, as the cost of the product (which includes materials; fabric, webbing, grommets, thread, labor, energy) plus a percentage of markup, which equals the price listed on the website.