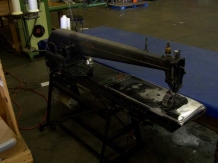 1940's Model Sampson, 3 needle
In 1940:
This brand new sewing machine came to DeBrovy's in the 1940's, long before I was born. This machine was used on every cover we manufactured, canvas, mesh and vinyl. This machine is still used today and is only used to sew together canvas tarps. The Union Special 38200 Samson is a heavy duty three needle machine that has a 40" sewing arm. The machine is made by The Union Special Sewing Machine Company and sews a chain stitch.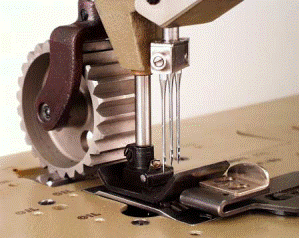 ---
What is the difference between a "lock stitch" and "chain stitch"?
Answer: Most people would prefer a lock stitch.

The lock stitch, is when the top thread goes down through the needle and the bobbin in the bottom spins and creates and spins in a circle, creating the lock in the needle as it comes back up. The biggest disadvantage, you have to keep stopping to change the bottom bobbin. The biggest advantage, it creates a strong, hard to take out seam.

The chain stitch, moves in a way that the bottom thread is moved around by a looper that the action creates a chain. The biggest advantage to a chain stitch, it is sewn very fast. The biggest disadvantage is if the chain stitch is cut, you can pull the right thread and all the thread will pull apart, opening the whole seam.

Visit our website to see our full line of products: http://www.debrovys.com/products/.
Have questions, Contact Us.